Arizona Pro Service LLC provides expert air conditioning, heating, refrigeration and ventilation service to Phoenix,AZ area customers. We developed a reputation for ensuring each and every one of our customers is comfortable in their space, regardless of what the desert weather brings.
Our approach to home comfort allows us to install, repair, service and replace any size and shape of  air conditioner,heat pump, furnace,air quality device, or ventilation system.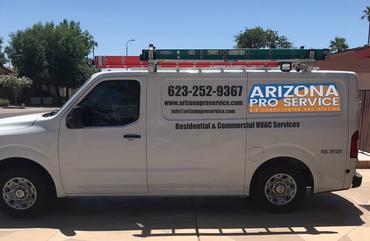 From HVAC products to routine maintenance designed to reduce the cost of heating and cooling, Arizona Pro Service LLC strives to create the perfect indoor climate solution for each of our customers.
In the middle of a hot summer in desert, your air conditioning is the one thing you can rely on to keep your home comfortable. To keep comfortable, it's important to match the right air conditioner with your existing furnace and air handler to provide a whole house comfort solution your family can count on. Once your air conditioner is installed, regular maintenance will minimize air quality issues and wear on the device. We provide this service, along with quality repairs when needed.
Every homeowner deserves to be comfortable and relaxed when at home. Without steady, reliable heating and cooling, your home will quickly become unsafe and uncomfortable for everyone in it. We provide a full range of residential heating, cooling and air quality services ranging from new furnace and air conditioning installation to annual maintenance and emergency repairs.
If you own or operate a business in the area, you know the value of a high quality, well maintained HVAC system. Not only does a well maintained system ensure quality heating and cooling for your customers and employees; it saves you money. From choosing the right packaged air conditioning and heating system to installing a building site control system to reduce energy cost, we have the technology and expertise needed to get the job done for your business.
Heating comes in many forms, but whatever you choose, it needs to work consistently through the few of winter months. We carry a full line of factory tested, high AFUE rated furnaces – this means they are more efficient in how they use the fuel they consume to produce heat. We also carry top of the line heat pumps and provide a full range of maintenance and repair work on new and existing heating systems, duct-work and air handlers.
Your home is full of pollutants and contaminants like dust, pet dander, pollen, fungi, mold, and bacteria that you may not be able to see. An indoor air quality system such as an air purifier, air cleaner, UVC light or humidity control system will ensure your air stays comfortable and safe throughout the year.
Regular maintenance is a must for your home's heating, cooling and air quality systems. Coils need to be cleaned, filters changed, and systems inspected for signs of wear that could lessen the lifespan of your home's comfort system. To ensure you stay comfortable throughout the year, call us today to learn more about our regular maintenance plans.